At Kohn Animal Hospital, we offer a full range of medical and surgical services.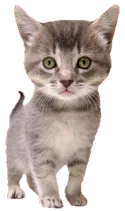 Emergencies are accepted anytime our clinic is open. If you feel you have an emergency with your pet, please call us or come in immediately. If possible it is best to call before coming in so that a staff member can advise you on your particular emergency.
Preventative medicine is an essential part of maintaining long-term health. In addition to routine wellness exams, we offer routine vaccinations, heartworm testing, intestinal parasite screening, FeLV/ FIV testing, routine bloodwork and urine screenings, and routine imaging options. 3-year vaccinations are available. Your veterinarian will work with you to create a long-term preventative care plan specific to your pet's breed and lifestyle.

Medical care:
Our hospital has an in-house laboratory that can analyze fecal, blood, and urine specimens to quickly diagnose conditions with your pet. Our veterinary team also excels at management of common medical conditions, including but not limited to: chronic kidney disease, liver conditions, gastrointestinal disease, endocrine disease, and allergies. We also offer nutritional counseling.