Dr. Greta Mann- Veterinarian/ Owner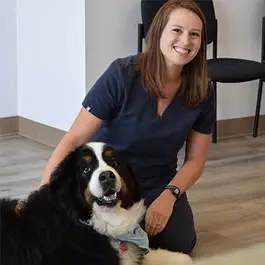 Dr. Greta Mann is the proud owner of Kohn Animal Hospital.She completed her bachelor's degree in Molecular and Cellular Biology at Beloit College prior to obtaining her veterinary doctorate degree from the University of Illinois. Dr. Mann's special interests include dermatology, animal behavior, and client education. She is currently a member of the Chicago Veterinary Medical Association and the American Veterinary Medical Association.
The original Kohn Animal Hospital was located in Highland Park, IL. It was created in the early 1950s by Dr. Mann's grandfather, Dr. Leonard Kohn. He practiced in the area for over thirty years. Dr. Mann grew up hearing tales of veterinary medicine from her grandfather and was inspired to follow his footsteps into a career in veterinary medicine.
Dr. Mann was raised in Vernon Hills and is excited to be returning to this local community. She currently resides in Wauconda with her husband, Brad, their twin daughters, their Persian cat, Henry, tabby cat, Spud, their French Brittany Spaniel, Leela, and their Bernese Mountain Dog, Bernie. In her free time, Dr. Mann enjoys running, cheering on the Cubs, and sweeping vast amounts of fur from her house.
---
Dr. Kathleen Keene
Dr. Kathleen Keene is excited to join the team at Kohn Animal Hospital! She completed her bachelor's degree in Wildlife Ecology and Communications from the University of Wisconsin-Madison before completing her veterinary education at University of Illinois. She always knew she wanted to be a veterinarian!

Dr. Keene's professional interests include preventative care, ophthalmology and dermatology. She is a member of the American Veterinary Medical Association along with the Chicago Veterinary Medical Association.

Dr. Keene grew up on the far southwest side of Chicago (yes, she is a White Sox fan, but still roots for the Cubs every once in a while). In her free time, she likes seeing live music and traveling to new cities. She is also an avid runner and foodie. She currently lives in Chicago with her husband, their cat Banksy and their sweet pup Betty.
---
Dr. Danielle Pollack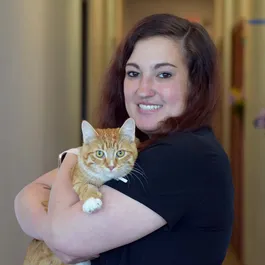 Dr. Danielle Pollack attended the University of Illinois in Champaign-Urbana where she majored in biology with a minor in chemistry. She was a bronze tablet scholar which means she was the top 1% of her graduating class. She graduated undergrad in 2011 and then went on to pursue her doctorate in veterinary medicine at the University of Missouri where she graduated in 2015.
She has been practicing small animal medicine for dogs and cats for the past 8 years in the Chicagoland area. Her interests in veterinary medicine include dermatology and preventative care. She is passionate about building relationships with her clients and patients. In her free time, Dr. Pollack is actively involved in the animal rescue community. She volunteers at Orphans of the Storm shelter. She recently adopted a handsome brindle pit bull named Jalen who is her best friend.
In her free time, she loves spending time with her dog. She also loves riding her motorcycle and working out at the gym or running. She is so excited to join the Kohn Animal Hospital team!!!